Abraham Lincoln Sixteenth President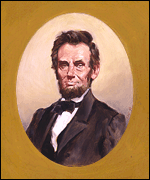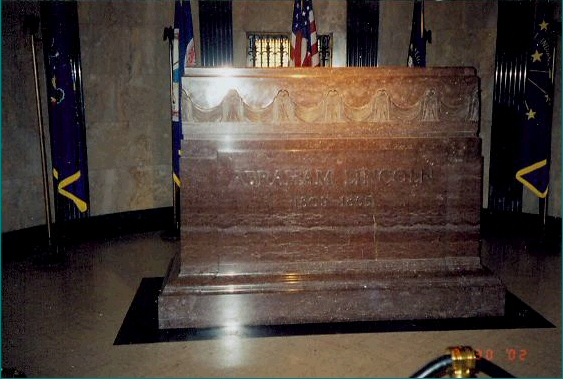 Abraham Lincoln Tomb
| | | | | | |
| --- | --- | --- | --- | --- | --- |
| Name | Born | Died | Age | Buried At | Visit Done |
| | | | | Oak Ridge Cemetery Springfield, Il | |
President Lincoln's grave is not very hard to find. It towers over the whole cemetery. There are signs pointing the way to the grave and other Lincoln sites in Springfield. The best way to get to the cemetery is by taking 55 north to Sixth St. up to the cemetery. There are signs that point the way. President Lincoln's Presidential Library is to open a year from this November. They have a stone marking where he was buried at, at one time before he was moved to the tomb he his in now. You enter the tomb behind the statue of President Lincoln face. Inside the tomb, they have put going around the wall what was said right after he had passed away which was "Now He Belongs To The Ages". It was said by Secretary of War Edward Stanton.
In October of 2005 while on my yearly visit to Washington DC I went and was able to get in to Fords Theater. The tour guide said that the only things that are from April 1865 are the Picture of George Washington and the couch that President Lincoln guest sat in. Down in the visitor center they have some more of the original stuff from April 1865.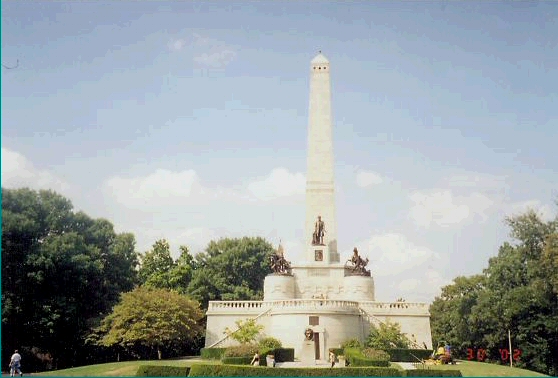 Front Of Abraham Lincoln Grave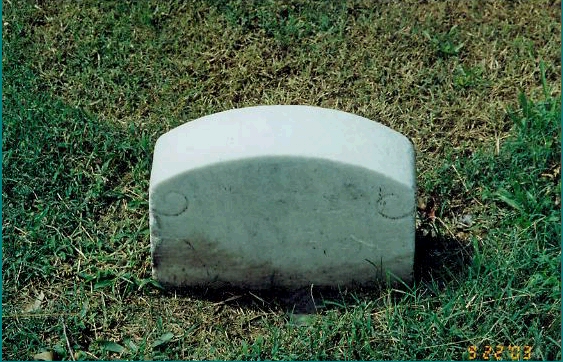 Here is where I think John Wilkes Booth is buried. His Grave is not marked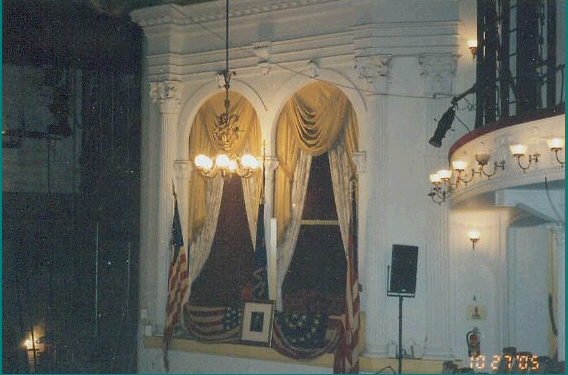 President Lincoln booth in Fords Theater.
Facts About Abraham Lincoln:
Lincoln was the first president to have a beard while in office
Lincoln was the tallest president. He was 6 feet and four inches tall
Lincoln once had a dream right before the fall of Richmond that he would die. He dreamt that he was in the White House, he heard crying and when he found the room it was coming from he asked who had died. The man said the President. He looked in the coffin and saw his own face. A week later Lincoln died
Robert Todd Lincoln arrived too late to stop three separate presidential assassinations. He met his father, President Abraham Lincoln, at the theatre after John Wilkes Booth had fired the shot. He went to a Washington train station to meet President Garfield, arriving only minutes after he was shot. And, he traveled to Buffalo, New York to meet President McKinley, but got there after the fatal shot had already been fired
He was the first president to be photographed at his inauguration. John Wilkes Booth (his assassin) can be seen standing close to Lincoln in the picture
Abraham Lincoln grew his beard out of the suggestion of an 11 year old girl
The contents of his pockets on the night of his assassination weren't revealed until February 12, 1976. They contained two pairs of spectacles, a chamois lens cleaner, an ivory and silver pocketknife, a large white Irish linen handkerchief, slightly used, with "A. Lincoln" embroidered in red, a gold quartz watch fob without a watch, a new silk-lined, leather wallet containing a pencil, a Confederate five-dollar bill, and news clippings of unrest in the Confederate army, emancipation in Missouri, the Union party platform of 1864, and an article on the presidency by John Bright
Abraham Lincoln was the first president to be born outside of the original thirteen colonies. He was born in Kentucky
Nickname: Honest Abe
Last Words: It doesn't really matter
Cause of Death: Assassinated

Abraham Lincoln Presidential Library