Calvin Coolidge Thirtieth President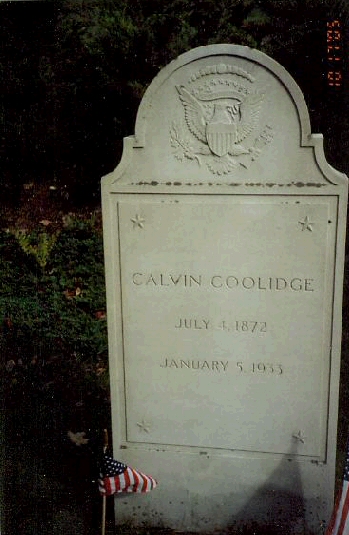 Calvin Coolidge Grave
| | | | | | |
| --- | --- | --- | --- | --- | --- |
| Name | Born | Died | Age | Buried At | Visit Done |
| | | | | Plymouth Cemetery Plymouth, Vt | |
After seeing President Pierce in Concord, Nh, I was on my way to see President Coolidge in Plymouth, Vt. After a quick stop to pick up some Vermont Maple Syrup. When I was planning my big trip I was looking on-line to see if the Coolidge Home would be open when I was there. Well it said on the website that it would close the day before I was suppose to get there. So after emailing someone at the Coolidge site asking if the gift shop would be open, he told me to stop in and say hi. Well I just happen to get there at the right time to get a free tour. There were a bunch of tour buses that came to see the Coolidge Home and some of the other buildings on the grounds. The person that I had emailed told me to just slip in with the tour bus people. So I was able to see the house he was sworn in by his father for free.
President Coolidge grave is kind of hard to find. There are no signs pointing the way to the cemetery. The road to the cemetery is less then a quarter of a mile from the Coolidge home. You will see a brown house (house color in October 2005). When you see the house, you will turn and go up the road about a half a mile or mile if that. Right across the road from the graves is a gravel parking lot that you can park in. The graves are very simple just like President Coolidge was. Where the graves are at, it is a very narrow area which made it hard for pictures (see Grace Coolidge to see narrow area).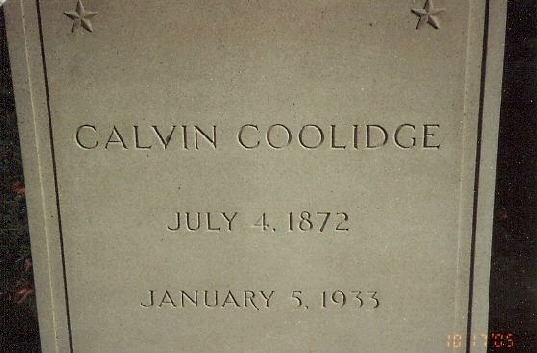 Close up on President Coolidge Grave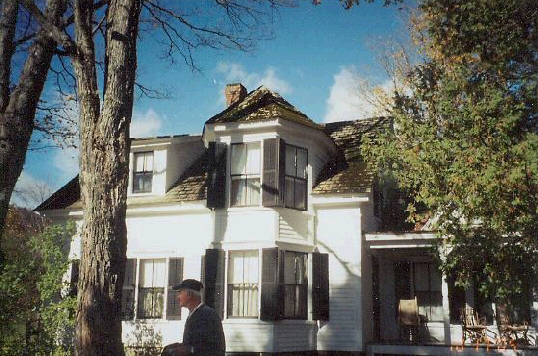 The House that President Coolidge was sworn in at when he found out he was President
Note:
Calvin Coolidge also served as the twenty-ninth Vice President to Warren G. Harding from 1921 to 1923. Click here to learn more about Calvin Coolidge's Vice President bust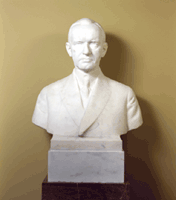 Facts About Calvin Coolidge:
His Vice President, Charles Dawes, earned a Nobel Peace Prize
Calvin Coolidge, a man of few words, was so famous for saying so little that a White House dinner guest made a bet that she could get the president to say more than two words. She told the president of her wager. His reply: "You lose."
Calvin Coolidge was sworn into office by his own father, who was a justice of the peace, at 2:47 in the morning. Coolidge then went back to sleep
He liked to be photographed while wearing Indian headdresses and Boy Scout uniforms
Coolidge's last will and testament, executed in December 1926, was just 23 words long: "Not unmindful of my son John, I give all my estate, both real and personal, to my wife, Grace Coolidge, in fee simple."
Coolidge refused to use the telephone while he was in office
Nickname: Silent Cal
Last Words: Unknown
Cause of Death: Heart failure

Calvin Coolidge State Historic Site